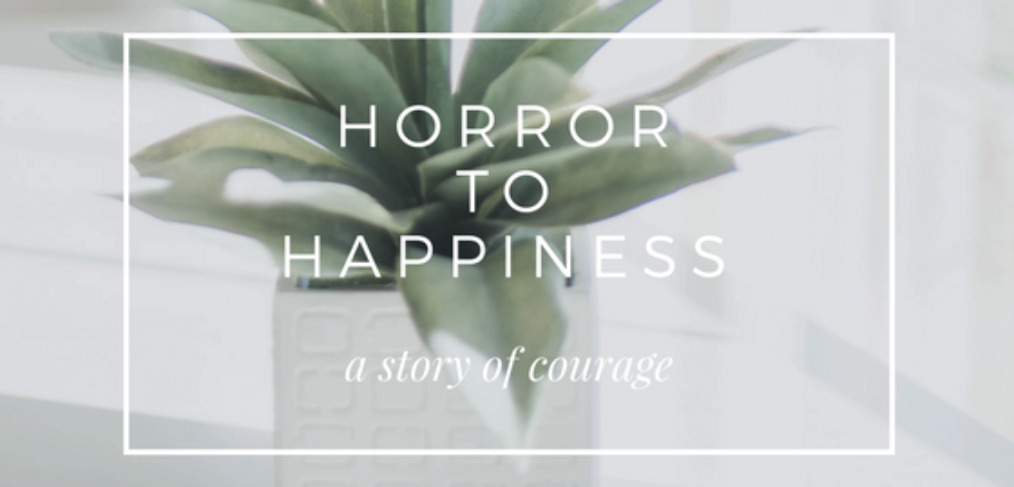 FROM HORROR TO HAPPINESS
Contemplating suicide in Bali a year after her partner, Greg, killed himself, Carren was with her friends, Charmain and Jodie, inside the Sari Club when it was devastated by a bomb blast.
Covered in the rubble, Carren realised she did not want to die.
Despite a shattered skull, Carren found the will to escape and, in memory of her friends who died in the blast, the courage to transform her life and find love again.
Carren's long-term partner, Matt, has been integral to her recovery. Speaking openly, Carren has made countless authentic connections with people the world over who all have their own story. She believes that sharing her story encourages others to find their voice and share their message.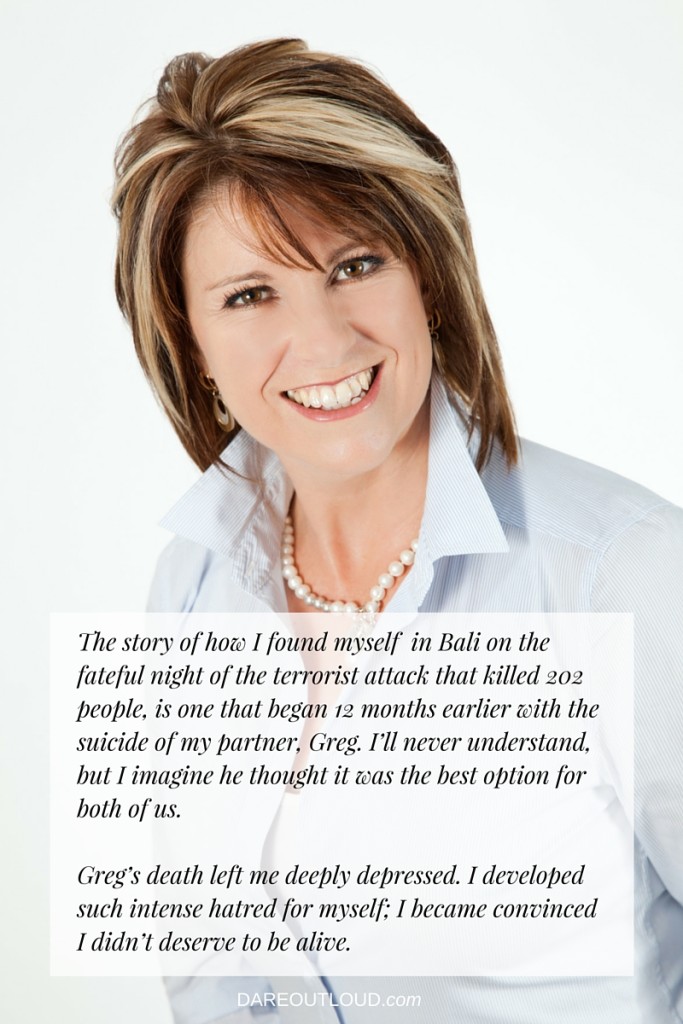 My best friend Jodi was my rock and when I told her I wanted to go to Bali to commemorate the first anniversary of his passing, she insisted on coming. Our friend Charmaine also agreed to join us. Jodi knew how dark my moods had become and didn't trust me to be alone. Despite her suspicions, she had no idea that I had decided to end my life in Bali.
We had only been in Bali a few hours when we went to the Sari Club. It began as a fun girl's night out and I was in the mood to celebrate, feeling resolute that my decision had been made. I remember talking to my friends one moment and the next feeling this great rush of air hit me as if I was standing in front of a jet engine. When I woke, I was covered in rubble that contained hands, feet and faces. I ran for my life, falling into ditches, climbed walls and jumped from great heights.
THERE WAS NOTHING HUMAN ABOUT MY HUMAN INSTINCT FOR SURVIVAL; THE POWER WAS SUPER HUMAN.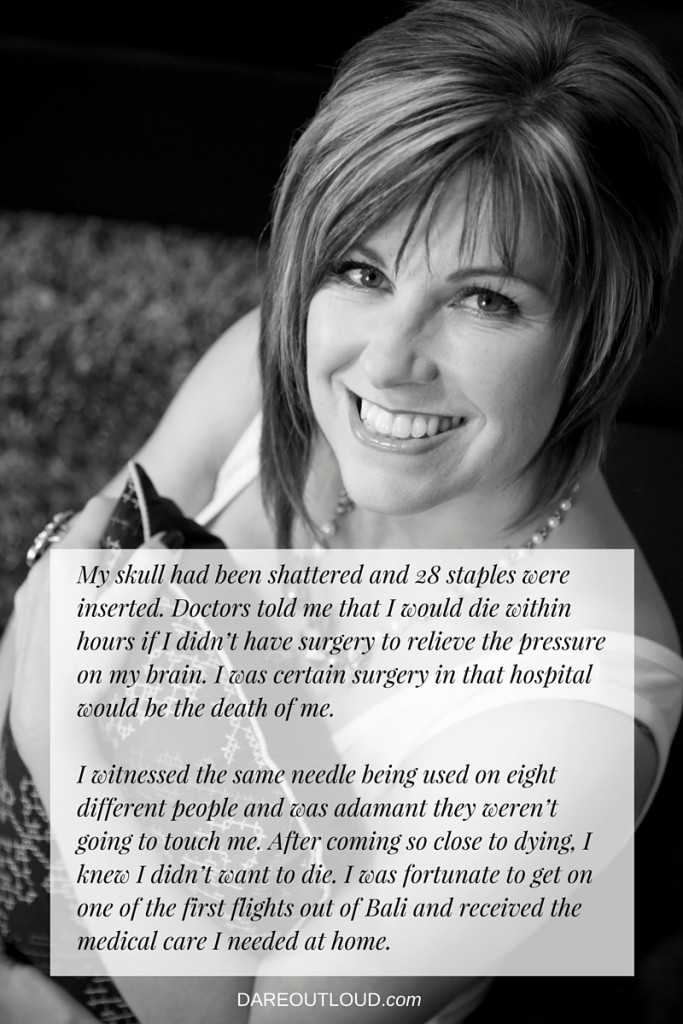 ALL THE WHILE, UNAWARE THAT MY TWO FRIENDS HAD BEEN KILLED IN THE BLAST.
I'd even spoken to Jodi's brother from the hospital telling him Jodi was fine and I could hear her in the hallway talking on her phone. It wasn't until I was back in Sydney in hospital I discovered the heart-breaking truth.
Life passed in a fog of self-hate for five years until I had a life-saving conversation with my Dad. I realised that I couldn't keep crying and feeling sorry for myself.
WHEN I CHANGED THE CONVERSATION IN MY HEAD, MY LIFE CHANGED.
I woke one morning at 5.30am and without a doubt knew that I was going to be a speaker. This was far removed from my career as a real estate agent and the thought of speaking in public terrified me. In the beginning, I would vomit, sweat, forget things and just be plain terrible. I invested thousands of dollars to learn to speak and overcome nerves. I persevered because I knew that I wanted to make a difference. I owed it to Greg, Jodi and Charmaine.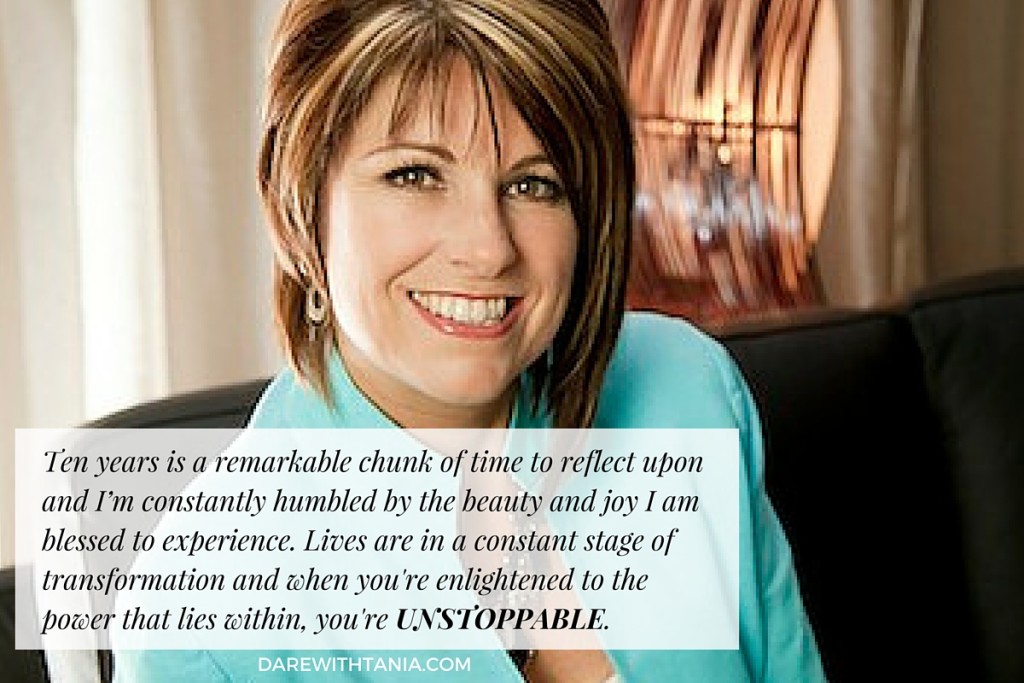 MY EXPERIENCES HAVE BEEN THE MOST INCREDIBLE GIFT AND, WITHOUT THEM, I WOULDN'T HAVE THE INSIGHT I NOW HAVE.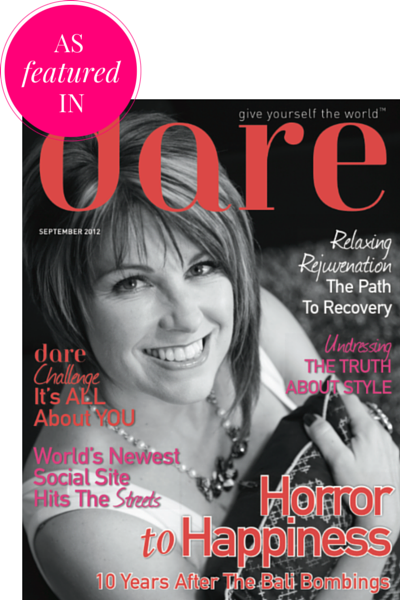 WHAT'S YOUR DARE DEVIL PERSONA?
Instinctive, Authentic, Passionate, Enterprising, Outgoing, Ambitious
No matter where you are in life, there's more to explore, discover and savour.
Take the quiz >>